Semiun Island in Natuna Regency, Riau Islands - Indonesia
---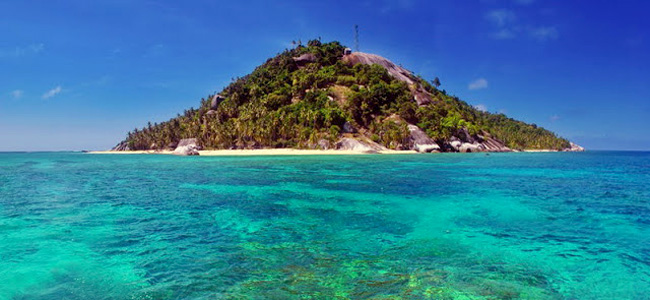 Apart from Bunguran, other beautiful islands reside in Natuna Regency and one of them is called Semiun. It is located both in South China and Natuna Sea and near to nearby countries – Vietnam & Malaysia. This small and secluded island is suitable for tourists who look for peace and enjoy relaxation. Some people even choose it as their destination for getting away from the routines. Somehow, it is suitable to spend a honeymoon with the spouse. Well, regardless of the reasons, you should learn more about the island by reading this article.
The Nuance
The island looks like a small mountain. Still, it only has the diameter of 18 km. No wonder, with such small size, you can easily get around or explore the island by foot. Even though it looks like an uninhabited island, but now there are already residents who occupy the island. According to sources mentioned that there are two heads of families who currently inhabit in Semiun Island, a total of 5 people. They have lived long enough in Semiun. Due to the neglected condition of the island and the absence of development, then they have to survive with makeshift conditions.
In terms of beauty, the island offers majestic landscape and amazing views of nature. Perhaps the most significant one is its shallow and clear sea water. In fact, you can see fishes and corals clearly from the shoreline. The waves are small and safe for swimming, too!
Exploring Semiun Island
The first thing to do in Semiun Island, before exploring the island, is to visit the Islanders. The thing is not many people live there. You can only find two households, living peacefully and modestly. They survive by depending on available natural resources like coconuts and fishes. To buy necessities, they come to Pulau Laut Sub-District by trading the commodity with products they need. Due to limited facilities and resources, the island does not attract people from Ranai to live there. However, tourists think differently and make the island as one of their tourist destinations in Natuna Regency.
After talking to the islanders and witness their daily routine, it is time to explore Semiun. What are available there? The first charm is the presence of green sea turtle! It is because the island becomes a comfortable habitat for such rare sea creature, especially during spawning season. If you are lucky, you can see those beautiful creatures on the shoreline laying their eggs! In this case, you can ask the islanders regarding the best time to visit the beach.
Another thing to do is to enjoy water sports. Thanks to the small waves. You can do almost everything including swimming, snorkeling, and diving. The only consideration is that you need to prepare the gear beforehand. Have no worries, though. You can rent one in Ranai City or nearby facilities. As for the foods, you can either carry snacks or gather with the islanders to enjoy meals together. They are friendly, after all.
Nearby Attractions
Anambas Island
How to Get There
The island is located in the northwest and borders with Anambas Island. Administratively, Semiun Island belongs to Pulau Laut Sub-District. One thing, you should take a boat in order to get to the island. The cost varies, depending on the operator's policy, though. As an alternative, you can hire a tour agency who can arrange the trip for you.
Where to Stay
Nearby hotels are only available in Bunguran Island

Latest News
In the are of Tanjung Uma, many houses were built on stilts with wooden poles. Because the position of this village is on two headlands, namely Tanjung Lepu and Tanjung Kubur, the local people named the village as Tanjung Uma. Another opinion states that the word uma comes from the English phrase from the word home. What was spoken by the people first was (h)ome, then it became ume and then changed to Tanjung Ume or Tanjung Uma. For seafood lovers, the variety of fish sold at Tanjung Uma is…
---
Riau Islands Tourism Your visit to Lingga Regency seem no complete without traveling to island of Mepar. Located precisely in front of the Tanjung Buton Port, the island is not only beautiful but also rich in history. Its friendly peoples and strongly maintained its tradition is the additional bonus that you would find if you visit there. Do not forget, taste their typical culinary and also carry a variety of native crafts as a souvenir. Administratively, Mepar island is part of the Lingga District, which has approximately, 5000 m2 wide,…
---
Tanjung Uban Tanjung Uban is a town districts in Bintan, Riau Islands Province. The city is also included in Bintan Island which has a sea port for expedition ships and pioneer passenger ships belonging to PT. Pelni. Kota Tanjung Uban is also the access to Batam Island and Singapore. In Tanjung Uban lies an BIIE industrial area in Lobam and BRC tourist areas in Lagoi. Before 1963, the community of Tanjung Uban use Singapore dollars in transactions, as well as residents of other Riau Islands. Rupiah Riau Islands (KR) becomes…
---
Lagoi beach is located in North Bintan sub-district, Bintan, Riau Islands province. This beach is majestically beautiful and have the same value as other beaches in Bali or Lombok. By the beauty inside the beach, there are foreigners coming along to enjoy the beach, especially for those who come from Singapore. It only takes 45 Km between Lagoi beach and Singapore, and that makes the Singaporean come to the beach often. Lagoi beach offers the magnificent nature beauty. Coconut trees, white sandy beach, the rolling waves and every detail nuance…
---