Natuna Grand Mosque in Natuna Regency, Riau Archipelago Province - Indonesia
---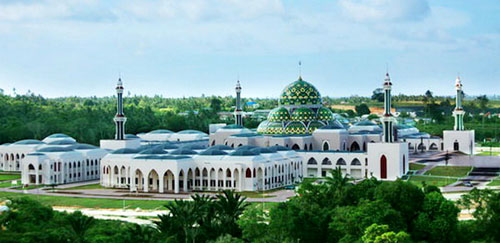 For those visiting Riau Province in Indonesia, there is a region you should never miss to visit which is Natuna Regency. It is the home of many attractions including a majestic structure called Natuna Grand Mosque. The building becomes more than a place for worshipping, but also becomes a recommended vacation destination for those who are into religious tour and architecture. Featuring a wonderful size and philosophical values, the mosque represents Natuna's pride, especially in terms of tourism. Visitors are allowed to enjoy several activities like photography, relaxation, and sightseeing there.
The Nuance
The mosque resides in NGU area and it is located in Datuk Kaya Wan Muhamad Benteng Street. Once tourists get to the location, they can see an enormous mosque with astonishing shape and design. The ornaments are unique, representing Holy Quran's values. No wonder, many people call the mosque as Indonesian's Taj Mahal. Not to mention it is the grandest mosque in Riau Archipelago Province. In terms of capacity, a single row of shaf can accommodate up to 180 congregations! In the middle part of the mosque, a giant dome resides and acts as a natural lighting for the interior.
Exploring Natuna Grand Mosque
One of the reasons to visit Natuna Grand Mosque is to enjoy its architecture. Perhaps the best feature of the mosque is the dome, which has a similar shape to that of India's Taj Mahal. It also features beautiful ornaments like floral patterns and Islamic calligraphy. On the first floor, the illumination is not that good, but it is comfortable enough for both worshippers and visitors. Next, you should look at the doors, which have a unique arch shape! Unfortunately, it is not allowed to take pictures inside the building. On the other hand, you can do photography outside the building.
Apart from sightseeing, it is recommended to learn more about the function of Natuna Grand Mosque. Like other mosques, Moslems can take advantage of the mosque to perform worshipping and other religious activities. The fact is that the mosque has become the symbol of the rise of Islam in Natuna Regency. According to the local government, they would build more facilities near to the mosque including Hajj Hostel, Plaza, City Park, etc.
As for tourists, you should not act carelessly when exploring Natuna Grand Mosque. After all, it is a holy place where people conduct worshipping. Thus, you should not make an annoying noise when visiting the mosque. Not to mention you must take care of the environment and obey any available rules. For instance, it is compulsory to take off shoes or sandals before entering the building. Also, do not eat snacks to the mosque!
Nearby Attractions
Sepempang Beach
Alif Stone Park
Sindu Rock
Rusia Rock
Gunung Ranai Waterfall
How to Get There
For those coming from Ranai City, the trip takes only about 8-10 minutes as the distance is 3.5 km. You can simply take Datuk Kaya Wan Moh. Benteng Street in order to reach the location. If you come from Lanud Ranai Airport, though, it takes approximately 15-20 minutes by local transportation service.
Where to Stay
Natuna Hotel
Central Hotel
Caesar Hotel
Batu Hitam Hotel

Latest News
In the are of Tanjung Uma, many houses were built on stilts with wooden poles. Because the position of this village is on two headlands, namely Tanjung Lepu and Tanjung Kubur, the local people named the village as Tanjung Uma. Another opinion states that the word uma comes from the English phrase from the word home. What was spoken by the people first was (h)ome, then it became ume and then changed to Tanjung Ume or Tanjung Uma. For seafood lovers, the variety of fish sold at Tanjung Uma is…
---
Riau Islands Tourism Your visit to Lingga Regency seem no complete without traveling to island of Mepar. Located precisely in front of the Tanjung Buton Port, the island is not only beautiful but also rich in history. Its friendly peoples and strongly maintained its tradition is the additional bonus that you would find if you visit there. Do not forget, taste their typical culinary and also carry a variety of native crafts as a souvenir. Administratively, Mepar island is part of the Lingga District, which has approximately, 5000 m2 wide,…
---
Tanjung Uban Tanjung Uban is a town districts in Bintan, Riau Islands Province. The city is also included in Bintan Island which has a sea port for expedition ships and pioneer passenger ships belonging to PT. Pelni. Kota Tanjung Uban is also the access to Batam Island and Singapore. In Tanjung Uban lies an BIIE industrial area in Lobam and BRC tourist areas in Lagoi. Before 1963, the community of Tanjung Uban use Singapore dollars in transactions, as well as residents of other Riau Islands. Rupiah Riau Islands (KR) becomes…
---
Lagoi beach is located in North Bintan sub-district, Bintan, Riau Islands province. This beach is majestically beautiful and have the same value as other beaches in Bali or Lombok. By the beauty inside the beach, there are foreigners coming along to enjoy the beach, especially for those who come from Singapore. It only takes 45 Km between Lagoi beach and Singapore, and that makes the Singaporean come to the beach often. Lagoi beach offers the magnificent nature beauty. Coconut trees, white sandy beach, the rolling waves and every detail nuance…
---