Kapal Stone in East Bungaran Sub-District, Natuna Regency - Indonesia
---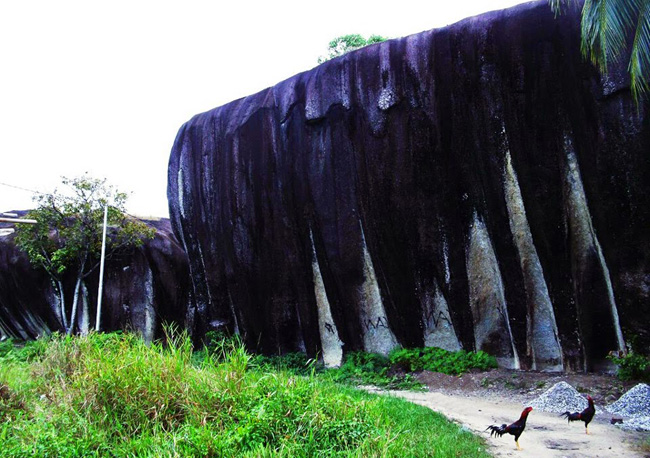 It is amazing that Natuna Regency offers more than beaches and islands. Even several grandiose stones are worth to see there, including the one called Kapal Stone! It is located in East Bunguran Sub-District and you can reach it easily from Ranai City in Indonesia. Kapal means "a ship", actually. It is because such giant granite has the shape that is similar to a ship. Aside from the unique shape, tourists have other reasons to come to the site. These include photography and learning a local story related to the stone. What about you?
The Nuance
The fact is that Kapal Stone resides near to the shoreline. No wonder, the land is wet and muddy. Despite the condition, stunning brownish sand may impress everyone. In terms of size, the stone is definitely grand, which is bigger than local houses! What about the shape? As mentioned before, it represents the shape of an anchored ship. Near to the stone, you can see dense coconut trees and some bushes, as well. Another noticeable feature is the presence of "warungs" (local food stalls). That means tourists do not need to worry when it comes to foods and drinks during their visit to Kapal Stone.
Exploring Kapal Stone
Now it is time to talk about tourist activities in Kapal Stone. The most popular one is indeed photography. You can stand in front of the stone and take selfies either alone or with friends. Not only you can take pictures of the stone, other objects are available on the site including lush trees and sea scenery. This explains why no one gets bored with photography when exploring the location. Moreover, it doesn't even require skills to get good photos.
The next charm of Kapal Stone is definitely the local legend. It is said there was a boy who owned a luxurious ship. The thing is that he was quite proud and ungodly. He didn't even admit his mother and made her disappointed. Due to such bad treatment of her son, she prayed to the god and wished him to be punished right away. Magically, a storm came to the sea where the boy's ship sailed. Soon, the ship hit the shore and turned into a stone! This story is quite similar to that of Sumatra's Malin Kundang, no?
Even though not all people believe in such legend, more tourists are interested in the story and it becomes one of the reasons to visit Kapal Stone, after all. Overall, no one would feel disappointed in visiting this interesting tourist spot. In a nutshell, it helps you to get wonderful photos and new story regarding local's legend. For further information about the story, you can ask the locals or available guides nearby.
Nearby Attractions
Jantai Island
Kemudi Island
How to Get There
The distance between Ranai City and East Bunguran Sub-District is only 6.2 km. That means the trip takes only about 15 minutes, especially if you take Sihotang Street. As for a faster trip, make sure to choose the best vehicle.
Where to Stay
Natuna Hotel
Central Hotel
Caesar Hotel

Latest News
In the are of Tanjung Uma, many houses were built on stilts with wooden poles. Because the position of this village is on two headlands, namely Tanjung Lepu and Tanjung Kubur, the local people named the village as Tanjung Uma. Another opinion states that the word uma comes from the English phrase from the word home. What was spoken by the people first was (h)ome, then it became ume and then changed to Tanjung Ume or Tanjung Uma. For seafood lovers, the variety of fish sold at Tanjung Uma is…
---
Riau Islands Tourism Your visit to Lingga Regency seem no complete without traveling to island of Mepar. Located precisely in front of the Tanjung Buton Port, the island is not only beautiful but also rich in history. Its friendly peoples and strongly maintained its tradition is the additional bonus that you would find if you visit there. Do not forget, taste their typical culinary and also carry a variety of native crafts as a souvenir. Administratively, Mepar island is part of the Lingga District, which has approximately, 5000 m2 wide,…
---
Tanjung Uban Tanjung Uban is a town districts in Bintan, Riau Islands Province. The city is also included in Bintan Island which has a sea port for expedition ships and pioneer passenger ships belonging to PT. Pelni. Kota Tanjung Uban is also the access to Batam Island and Singapore. In Tanjung Uban lies an BIIE industrial area in Lobam and BRC tourist areas in Lagoi. Before 1963, the community of Tanjung Uban use Singapore dollars in transactions, as well as residents of other Riau Islands. Rupiah Riau Islands (KR) becomes…
---
Lagoi beach is located in North Bintan sub-district, Bintan, Riau Islands province. This beach is majestically beautiful and have the same value as other beaches in Bali or Lombok. By the beauty inside the beach, there are foreigners coming along to enjoy the beach, especially for those who come from Singapore. It only takes 45 Km between Lagoi beach and Singapore, and that makes the Singaporean come to the beach often. Lagoi beach offers the magnificent nature beauty. Coconut trees, white sandy beach, the rolling waves and every detail nuance…
---