Amusing Local Art of Natuna Regency – Mendu
---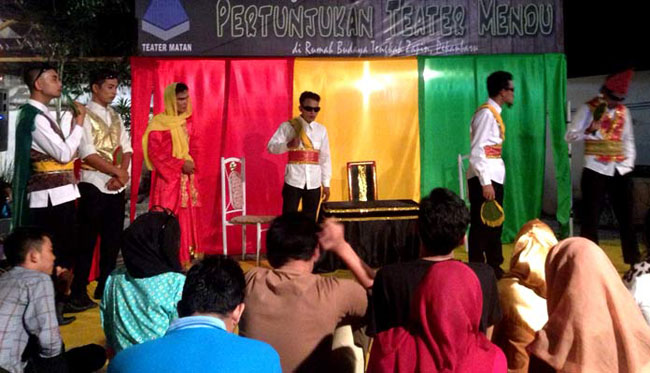 Natuna Regency of Riau Archipelago Province consists of numerous natural attractions like small islands and beaches. Is that all? Well, like other regions in Indonesia, it has some signature performances and arts as well. For example, there is Mendu. To be exact, it comes from Pulau Laut Sub-District and has been practiced by the locals over time as the pride of Natuna. In terms of name, Mendu means "to entertain those who feel homesick and lovesick. Aside from becoming local's entertainment, the performance has become a good attraction to tourists or everyone who visits Natuna Regency. So, what is it about?
About Mendu
Mendu has been part of Natuna's culture for decades. The performers may practice this art in an open field and it can be done by both men and women. When it comes to history, it is said Mendu was inspired by Parsi Shadow Puppet and has been developing since the 1780s. According to the locals, this show was done only by men back then. Thanks to modernization. Today you can see local women performing it as well. The unique part is that the performers do not even use any scripts in order to entertain the audience. Instead, they combine dances and songs in order to deliver the message or story.
Enjoying Mendu Performance
The best location to enjoy Mendu is in Pulau Laut Sub-District, where the art is originated. One thing, you need to learn the schedule of the performance before going there. Have no worries. The local tour agent would help you regarding such matter. Once you get the opportunity to enjoy the performance, it is time to go to the site. In a nutshell, the show has two main features which are dances and songs. Both of them combine into a beautiful performance and may mesmerize all audience! Also, it is usually done at night after the locals have done with their routines.
Many songs are often used in Mandu, including Jalan Kunon, Catuk, Wayat, Lemak Lamun, etc. When it comes to the dances, these include Beremas, Air Mawar, Lakau, etc. Mandu has become a medium to eradicate both lovesick and homesick among traders and travelers back then. They performed it at night before sleeping and used it as the source of spirit for the next day. Today, Mandu is regularly performed by the locals and the audience is mostly local fishermen and tourists.
Here is the fact. Mandu also tells stories to the audience. For instance, it is related to Mendu God's legend and the show is performed for about 14 nights! There is an opening dance called Ladun at the beginning of the show. Later, the main show begins and it is the best time for tourists to take pictures using the camera. Make sure not to disturb the performers, though.
Nearby Attractions
Ranai City
Bunguran Island
Sekatung Island
How to Get There
As mentioned before, the best location to enjoy the performance is in Pulau Laut Sub-District. For those coming from Ranai City of Indonesia, your prime destination is Penagi Port where you can get a boat service. Next, you can head to Pulau Laut Sub-District by boat.
Where to Stay 
Recommended hotels are available in Bunguran Island

Latest News
In the are of Tanjung Uma, many houses were built on stilts with wooden poles. Because the position of this village is on two headlands, namely Tanjung Lepu and Tanjung Kubur, the local people named the village as Tanjung Uma. Another opinion states that the word uma comes from the English phrase from the word home. What was spoken by the people first was (h)ome, then it became ume and then changed to Tanjung Ume or Tanjung Uma. For seafood lovers, the variety of fish sold at Tanjung Uma is…
---
Riau Islands Tourism Your visit to Lingga Regency seem no complete without traveling to island of Mepar. Located precisely in front of the Tanjung Buton Port, the island is not only beautiful but also rich in history. Its friendly peoples and strongly maintained its tradition is the additional bonus that you would find if you visit there. Do not forget, taste their typical culinary and also carry a variety of native crafts as a souvenir. Administratively, Mepar island is part of the Lingga District, which has approximately, 5000 m2 wide,…
---
Tanjung Uban Tanjung Uban is a town districts in Bintan, Riau Islands Province. The city is also included in Bintan Island which has a sea port for expedition ships and pioneer passenger ships belonging to PT. Pelni. Kota Tanjung Uban is also the access to Batam Island and Singapore. In Tanjung Uban lies an BIIE industrial area in Lobam and BRC tourist areas in Lagoi. Before 1963, the community of Tanjung Uban use Singapore dollars in transactions, as well as residents of other Riau Islands. Rupiah Riau Islands (KR) becomes…
---
Lagoi beach is located in North Bintan sub-district, Bintan, Riau Islands province. This beach is majestically beautiful and have the same value as other beaches in Bali or Lombok. By the beauty inside the beach, there are foreigners coming along to enjoy the beach, especially for those who come from Singapore. It only takes 45 Km between Lagoi beach and Singapore, and that makes the Singaporean come to the beach often. Lagoi beach offers the magnificent nature beauty. Coconut trees, white sandy beach, the rolling waves and every detail nuance…
---