Hadrah Performance in Natuna Regency, Riau Archipelago Province
---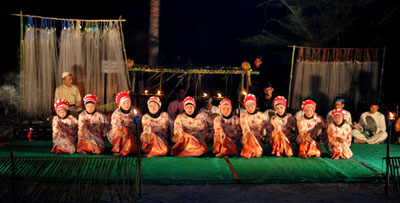 Most travelers recognize Natuna Regency as a good place to visit beaches and stunning islands. Well, that is true but it offers cultural performances and other attractions as well. Here is a reference. The name is Hadrah or Rudat, which is one of signature arts of the locals, especially among Moslems. During the performance, the locals would play big tambourines and sing Arabian poetry based on Holy Quran. The purpose is to introduce good traits of the Prophet to the audience. Not only it is popular in Riau Archipelago Province, Hadrah is also done in other regions like Java Island.
About Hadrah Performance
This unique performance is usually done in local mosques or villagers' house. Only men perform it and they wear a similar costume. For example, they wear a Moslem cap and dark long-sleeved shirt. Also, a white sarong completes it. When it comes to the musical instrument, different sizes of tambourines are utilized there.  This group consists of 8-10 members depending on the scale of the event. In fact, it can be as many as 50 people within a group! Unlike before, these days, tourists are allowed to witness and enjoy the performance along with the local audience.
Enjoying Hadrah Performance 
For those who want to enjoy Hadrah Performance when visiting Natuna Regency, there are several considerations to think about. First, it is related to the time. That means you should look for information regarding the schedule. This can be done by asking a tour agent or villagers. Have no worries. It costs nothing to get such important information as long as you ask them nicely. Hadrah, though, is usually done during Islam big days like Mawlid and others.
The second important consideration is related to the ethics. As a tourist, it is important to behave well when watching the performance. For instance, you are not allowed to make noises or disturb other audience. Next, make sure you wear neat and clean clothes when enjoying Hadrah. It is considered a sacred art, after all. Not to mention it is performed in a mosque, so you must respect it well. Here is another thing. Photography is allowed, but it must be done respectfully.
During the show, the artists may perform small movements that represent the reception of Muhammad the Prophet when he migrated to Madina. On top of that, the beautiful Arabian poetry may complete the show. Somehow, it feels so both peaceful and entertaining! Before going back to the hotel (after enjoying the performance), it is recommended to learn the history of Hadrah of Natuna Regency, as well. It was once called Kompangan and came from Jambi Province. As the time went by, it adapts well to the local culture and offers a distinct attraction to the audience.
Other Interesting Local Arts
Where to Enjoy Hadrah
Almost all villages in Natuna Regency include Hadrah as their tradition. Still, you must choose Ranai City as the checkpoint before visiting those villages. From Jakarta, you need to take a flight to Batam Island first. Later, it takes another flight to Natuna Regency and head to Ranai right away. The last thing to do is to use local transportation to visit nearby villages.
Where to Stay
Natuna Hotel
Caesar Hotel
Central Hotel

Latest News
In the are of Tanjung Uma, many houses were built on stilts with wooden poles. Because the position of this village is on two headlands, namely Tanjung Lepu and Tanjung Kubur, the local people named the village as Tanjung Uma. Another opinion states that the word uma comes from the English phrase from the word home. What was spoken by the people first was (h)ome, then it became ume and then changed to Tanjung Ume or Tanjung Uma. For seafood lovers, the variety of fish sold at Tanjung Uma is…
---
Riau Islands Tourism Your visit to Lingga Regency seem no complete without traveling to island of Mepar. Located precisely in front of the Tanjung Buton Port, the island is not only beautiful but also rich in history. Its friendly peoples and strongly maintained its tradition is the additional bonus that you would find if you visit there. Do not forget, taste their typical culinary and also carry a variety of native crafts as a souvenir. Administratively, Mepar island is part of the Lingga District, which has approximately, 5000 m2 wide,…
---
Tanjung Uban Tanjung Uban is a town districts in Bintan, Riau Islands Province. The city is also included in Bintan Island which has a sea port for expedition ships and pioneer passenger ships belonging to PT. Pelni. Kota Tanjung Uban is also the access to Batam Island and Singapore. In Tanjung Uban lies an BIIE industrial area in Lobam and BRC tourist areas in Lagoi. Before 1963, the community of Tanjung Uban use Singapore dollars in transactions, as well as residents of other Riau Islands. Rupiah Riau Islands (KR) becomes…
---
Lagoi beach is located in North Bintan sub-district, Bintan, Riau Islands province. This beach is majestically beautiful and have the same value as other beaches in Bali or Lombok. By the beauty inside the beach, there are foreigners coming along to enjoy the beach, especially for those who come from Singapore. It only takes 45 Km between Lagoi beach and Singapore, and that makes the Singaporean come to the beach often. Lagoi beach offers the magnificent nature beauty. Coconut trees, white sandy beach, the rolling waves and every detail nuance…
---