Natuna Archipelago
---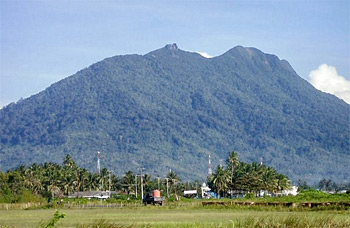 Natuna Islands or Kepulauan Natuna is islands that consist of 272 islands, which located in the South China Sea in the larger Tudjuh Archipelago, off the northwest coast of Borneo. The islands is administratively a regency within the Riau Islands province and the Indonesia's northernmost non-disputed island group. The Natuna islands are divided into three groups: North Natuna, which includes Laut Island (Pulau Laut); Central Natuna, which includes Natuna Besar; and South Natuna, which includes Subi Besar.
Natuna is the most northern islands in the strait of Karimata. In the north, Natuna is bordering Vietnam and Cambodia, on the southern border with South Sumatra and Jambi, in the west to Singapore, Malaysia, Riau and in the eastern part of East Malaysia and West Kalimantan.
The Natuna Islands have a remarkable avifauna with 71 species of bird registered, including the near-threatened Lesser Fish-eagle, the Natuna Serpent-eagle or the rare Silvery Pigeon. Among other species endangered species, we find the Green Iora, the Brown Fulvetta or the Green Broadbill. The colorful coral reef is found in the neighboring waters. Natuna Banded Leaf Monkey is among the 25 most endangered primates on Earth.
During this time, Natuna islands that located on International cruise line is known as an Oil and Gas producer. However, instead of oil and gas producer, Natuna is also having other resources in case of tourism. There are a lot of places that can be used as local excursions, with the natural charm of beaches and sea, as well as the beautiful islands to visit.
How to get there:

Flights to / from Natuna:
BATAM:
From Batam You can use the airline Wings Air through Hang Nadim International Airport. The mileage to Ranai Airport takes 1 hour and 30 minutes.
TANJUNG PINANG :
From Tanjung Pinang you can use the airline Sky Aviation through the international airport Raja Haji Fisabilillah. The long flight from Tanjung Pinang towards Ranai Airport is 1 hour 30 minutes.
Crossings to / from Natuna
TANJUNG PINANG : The trip to Natuna also can be done by using sea lanes, using KM Bukit Raya. You can take a trip through Port Sri Bintan Pura (Tanjung Pinang) to the Port Penagi (Natuna) for 2 days 1 night trip.

Latest News
In the are of Tanjung Uma, many houses were built on stilts with wooden poles. Because the position of this village is on two headlands, namely Tanjung Lepu and Tanjung Kubur, the local people named the village as Tanjung Uma. Another opinion states that the word uma comes from the English phrase from the word home. What was spoken by the people first was (h)ome, then it became ume and then changed to Tanjung Ume or Tanjung Uma. For seafood lovers, the variety of fish sold at Tanjung Uma is…
---
Riau Islands Tourism Your visit to Lingga Regency seem no complete without traveling to island of Mepar. Located precisely in front of the Tanjung Buton Port, the island is not only beautiful but also rich in history. Its friendly peoples and strongly maintained its tradition is the additional bonus that you would find if you visit there. Do not forget, taste their typical culinary and also carry a variety of native crafts as a souvenir. Administratively, Mepar island is part of the Lingga District, which has approximately, 5000 m2 wide,…
---
Tanjung Uban Tanjung Uban is a town districts in Bintan, Riau Islands Province. The city is also included in Bintan Island which has a sea port for expedition ships and pioneer passenger ships belonging to PT. Pelni. Kota Tanjung Uban is also the access to Batam Island and Singapore. In Tanjung Uban lies an BIIE industrial area in Lobam and BRC tourist areas in Lagoi. Before 1963, the community of Tanjung Uban use Singapore dollars in transactions, as well as residents of other Riau Islands. Rupiah Riau Islands (KR) becomes…
---
Lagoi beach is located in North Bintan sub-district, Bintan, Riau Islands province. This beach is majestically beautiful and have the same value as other beaches in Bali or Lombok. By the beauty inside the beach, there are foreigners coming along to enjoy the beach, especially for those who come from Singapore. It only takes 45 Km between Lagoi beach and Singapore, and that makes the Singaporean come to the beach often. Lagoi beach offers the magnificent nature beauty. Coconut trees, white sandy beach, the rolling waves and every detail nuance…
---